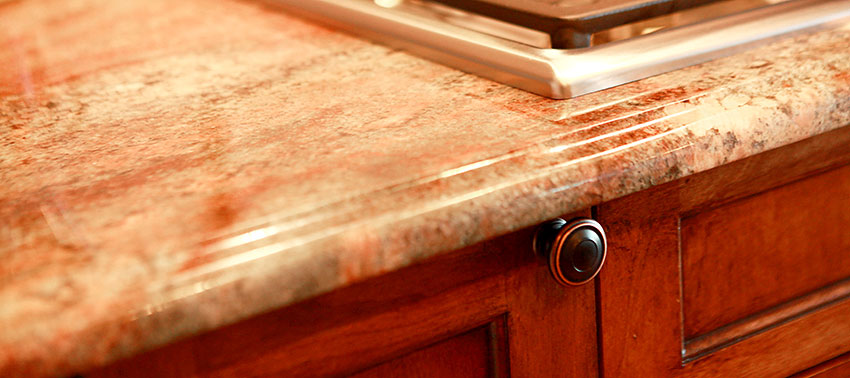 Ramsey Cabinets & Counters offers custom laminate countertops, post form countertops, solid surface countertops, engineered stone countertops, and granite countertops.
Replacing the countertops in your home can be done with minimal inconvenience and using materials that fit your design and budget needs. One of our skilled professionals will come to your home at a scheduled time to measure and template your existing countertops. When the new countertop you have selected is ready to be put in place, we will remove your old countertops and replace it with the new one. We work to make the entire process as smooth and convenient as possible. We also facilitate the handling of the plumbing for you.
Products
Laminate Countertops
Laminate countertop material comes in a wide range of colors and patterns. Laminates are the least expensive countertop surface and are very durable.
Solid Surface Countertops
Solid surface countertops are durable and give a seamless finish. Solid surface is easy to care for and it is non-porous so it will not trap bacteria.
Quartz Countertops
Quartz used for countertops is an engineered stone. It is a non-porous material that is durable, stain resistant, and resists scratches.
Granite Countertops
Granite for countertops is popular for its rich and elegant appearance as well as its durability. Granite comes in many different colors and patterns. Visit the IMC Stone website to see the selection of granite slabs and granite tile that is available.